LIMF ACADEMY COHORT 2021-22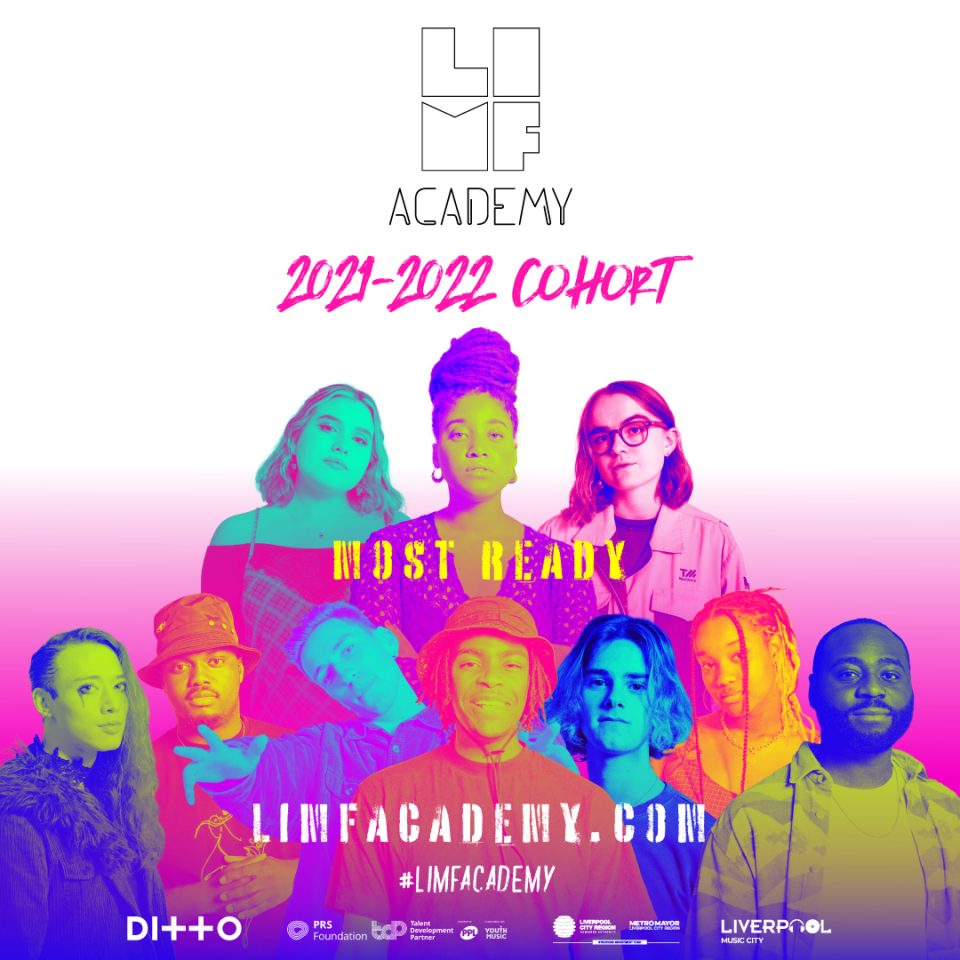 The next cohort of music makers have been given access to the LIMF Academy's award-winning talent development programme.
The class of 2021/22 has been announced and will see the 10 unsigned artists benefit from a year-long programme which includes masterclasses, showcases, bursaries,  life-coaching and advice. The three 'most ready' artists, which this year boasts an all-female line-up, will also receive extras such as studio time and the creation of professional assets.
The artists are:
Amber Jay (Most Ready) – Delicate vocals and very experimental when it comes to production.
Lazygirl (Most Ready) – A pop, multi-instrumentalist who draws on her LGBTQ+ identity for inspiration
Ni Maxine (Most Ready) – A neo-Jazz singer-songwriter; exploring themes of home, identity, self-esteem and belonging.
DAYZY – This Liverpool-born rapper, singer, songwriter has a melodic sound.
Hannah-Morgan – With a flair for harmony, Hannah is influenced by pop, RnB, garage and gospel.
Superlate – This young producer crafts records filled with soul, drum and bass.
Philly D – A Ghanaian-born rapper who is a talented lyricist.
Cures and Curses – Already generating a buzz online, artist Aaron Akpojaro is making waves with his alt-po-rock sound.
Vaunce – An eclectic artist influenced by rave, hip-hop and classic pop.
ALEXNDER – This 17 year old from Wirral, is a self-taught guitar player whose skills lie in song writing and production.
For full biographies on each artist, visit the official Academy website.
You can also watch live performances of the three Most Ready artists here – Amber Jay, Lazygirl and Ni Maxine.
Since its inception in 2013, the LIMF Academy has seen more than 4,450 young artists attend workshops and seminars and perform at a variety of events.
LIMF Academy partners include Liverpool City Council, BBC Music Introducing, PRS Foundation, Ditto Music and Sentric Music. Liverpool City Region Combined Authority has also supported the Academy with its Strategic Investment Fund.
Youth Music has given support to the Academy via its Incubator Funding pot which will focus on a new career and creative music development programme aimed at black music artists between 18-25 from Merseyside.