INTERVIEW WITH LUNA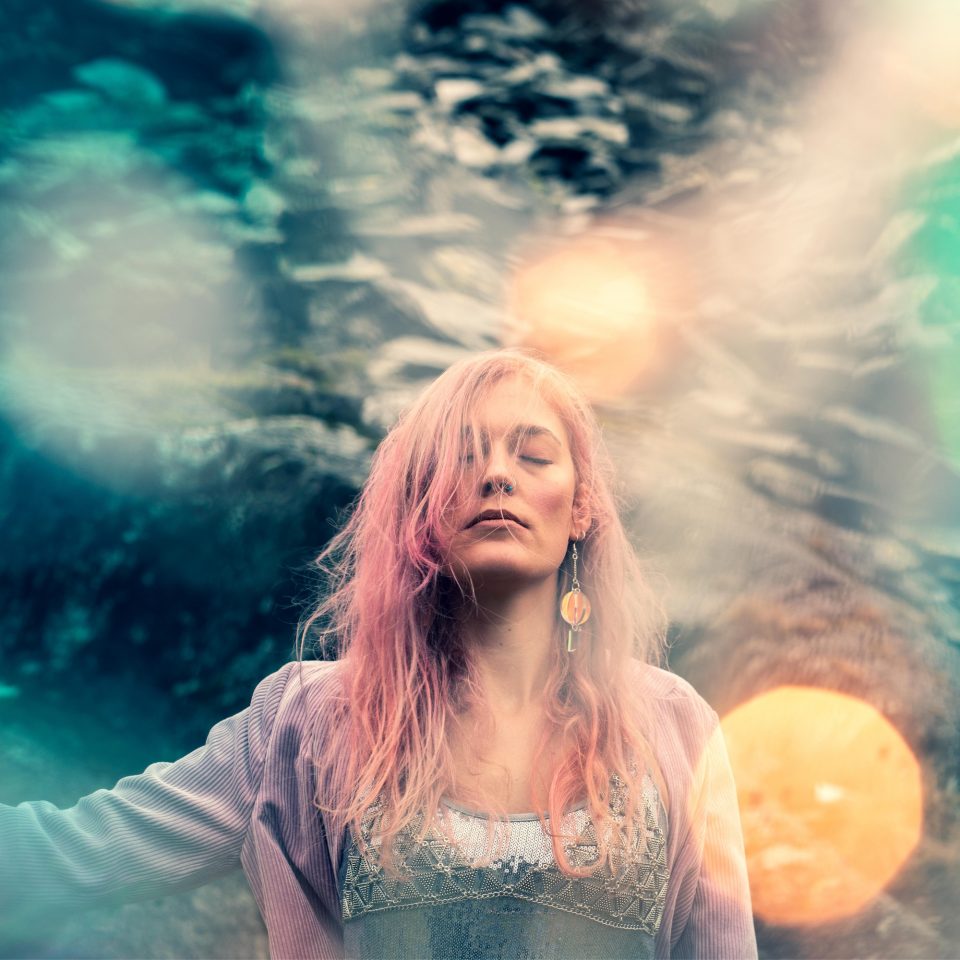 Taking cues from Four Tet's sampling trickery and the layered production of Sophie, LUNA is a rising star of UK electronica and one of the brightest talents in Liverpool's fertile and eclectic scene. She is an amalgamation of a classic voice and innovative electronica. Her samples, sub and sass approach has already started to catch the eye of tastemakers in the industry, having been interviewed on Radio 1 as an independent artist and receiving airplay on the likes of 6Music, Amazing Radio and Worldwide FM.
If that's not enough, LUNA also dips her toe in the DJ world, as she holds down a monthly radio show on Melodic Distraction and has DJ'd at events including LIMF, Future Yard Festival and emerging experimental club night 'athe'. Friends and fellow experimental Liverpool whizzkids Stealing Sheep have remixed her track '5am', serving as the perfect appetite-whetter to LUNA's debut EP 'Hello Earth'.
'Hello Earth' – the self-produced ambitious and distinctive EP – proves what an exciting prospect LUNA is – showcased through punchy pop ballad 'Night Drive', the divine '5am' and the beautiful 'Cold Coffee'. Recently released, the feedback has been stellar. As one of our LIMF Academy alumni, we thought it would only be right that we caught up with LUNA to find out more about the project, process and what's next.
You recently released your debut EP, 'Hello Earth', after working on it for what seems 18 months or so, what is it like to have it finally out there?
A huge relief! I took my sweet time, but looking back I'm really happy I didn't rush anything. The record was meant to come out once or twice before now, but for one reason or another it didn't. Everything's worked out just right, and now I'm excited to focus my energy on new material.
How would you describe the project to people who aren't familiar with your music?
A synth-laden soundtrack to those twilight hours; honest and emotional storytelling to hurt and heal to.
What has been the most challenging parts of creating and releasing the project?
The release campaign itself – I'm sure most artists would agree, the admin-based stuff required to make a project have impact is in no way creative or fun! I feel a constant pressure to push it to people, to try and secure that radio-play or that magazine write-up. You worry about doing people's heads in and then just do your own head in. When honestly, that's not what it's all about, is it?
What has been the most rewarding parts of creating and releasing the project?
Seeing people's reactions to the EP. I put on an EP release in the gorgeous St Bride's Church and was staggered at the amount of people who came. What was even more staggering, was that I didn't personally know half of them. I received so many nice messages afterwards, including one that said it had helped them through a hard time. I welled up, messages like that make it all worthwhile.
What is your favourite track and why?
I'd say 'Cold Coffee', probably because it's the newest ha but to me it represents acceptance and wholeness. It was written following a tough time and reminds me that I came out of the other side alright.
Why 'Hello Earth' as the title?
I was struggling for aaaages on a title. Nothing was coming to me, until I was listening to my fav, Kate Bush. She has a track called 'Hello Earth' on her 'Hounds of Love' album. I'm not saying that was the only reason (honest) – Hello Earth just seemed to make sense all round. There are many themes of nature/the elements running throughout the whole EP. And as my debut, it's my 'hello' to the world.
You write, perform and produce your music, how and why have you chosen to do this?
Yikes, that's a big question. I couldn't imagine doing it any other way. Because I love it, because it's all I've ever known, because I'm too much of a control freak to let someone else produce it? Ha.
You've worked with various other creatives to roll out the project, can you tell us about some of those collaborations?

The majority of the EP was mixed on a studio residency in Leeds as part of the ReBalance programme. I worked with a studio engineer and producer called Rhiannnon Mair and she breathed new life into the tracks, it was an intense but really enjoyable week. I've worked with Robin Clewley on the photos and both music videos – he's an absolute dream to work with and we're just on the same page with our vision. The same goes for my girl Karis Griffith, who lent her creative eye and headed up styling on shoots. I'm lucky to have Melodic Distraction Radio as a huge support, they partnered with me on my EP launch and generally hold my hand when things get too stressful ha. Last but by no means least, my wonderful band Emilio Pinchi and Grace Goodwin – giving the songs a new energy when performed live.
Stream / Buy 'Hello Earth': https://ditto.fm/hello-earth-luna