INTERVIEW: AMBER JAY CHATS NEVER TOO FAR FROM A DARK THOUGHT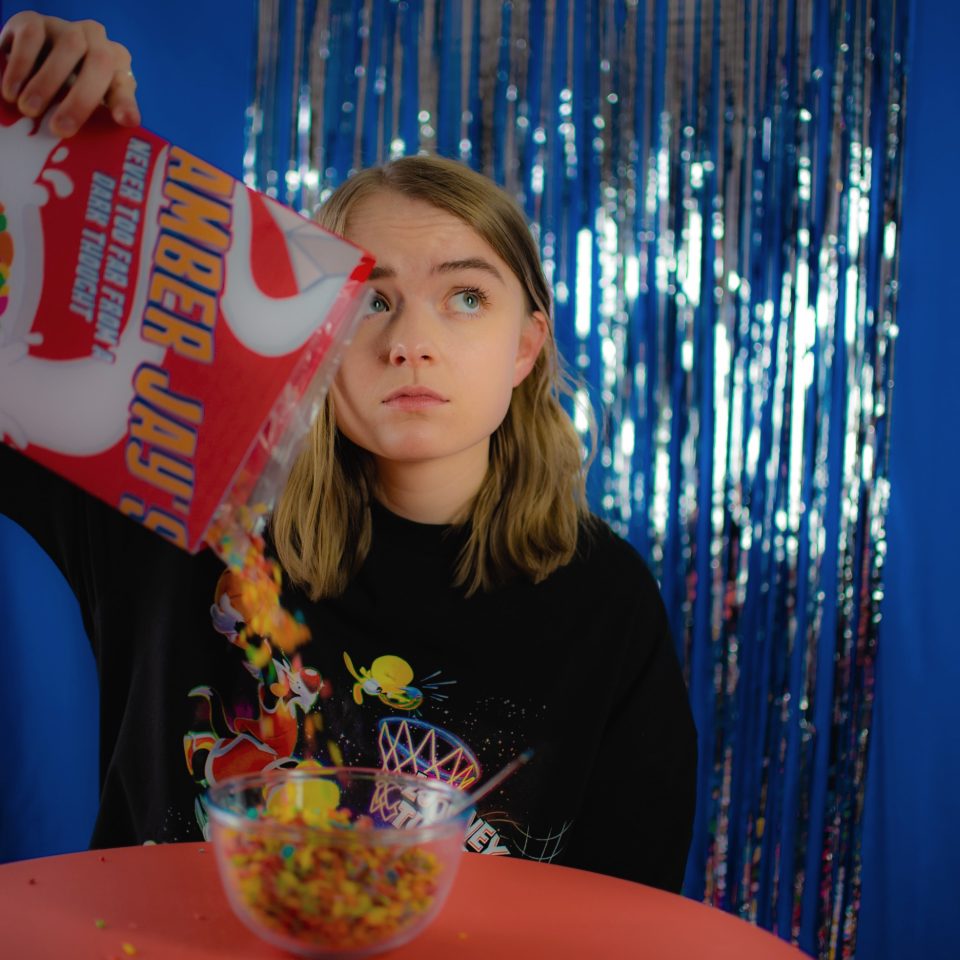 It's March 3rd so clearly the most important thing today is the release of Amber Jay's 'Never Too Far From A Dark Thought' EP 🙂 We caught up with Amber to find out more about the project.
First of all, congrats on the EP coming out, why did you decide to title it "Never Too Far From A Dark Thought"?
Thank you so much! Well not to get too deep straight away but the title kind of summed up my mental state for the sort of past five years. It felt like my brain was made of glass for a while and I was constantly trying to avoid things that might had shattered it. Therefore I felt I was 'never too far from a dark thought.' All the songs were written within those five years and so it feels right they exist as one body of work.
How have you been managing to keep creative during the lockdowns this past year?
Luckily I starting recording this EP in February 2020 and so we finished it over lockdown remotely which kept me busy. After that I've just spent time writing, editing artwork and applying for opportunities like LIMF Academy! Which I was made up when I found out I got on it.
You've said that you weren't originally planning to create an EP, so how did this project come about?
I saw a post on Instagram from Kurran who I'd seen perform live as 'Munkey Junkey' and loved. He said he was working out of a new studio in the Motor Museum and was looking to collaborate with people. I don't know what made me message him to take him up on the offer but I did. It was so out of character for me. I had no intentions at all and I didn't even really know what I wanted to do when I got there. We hung out for a bit and then Kurran asked whether I had any songs. I played him and Zuzu some tracks and he asked what one did I want to record first. I remember being surprised at the time that we were recording something but I don't know what I thought would happen turning up to a studio haha. We started with 'Stay the Same' and just went with it. I was so happy with how it turned out, it gave me such a lease of new life and an entire new perspective of my music and potential. We just kept going with the tracks, in mind to form an EP. Before I knew it, it was all there living and breathing.
Your sound is reminiscent of many genres, is it challenging to blend all of these aspects or is this a natural way of writing for you?
I think it comes naturally. My experimental and sort of open ended outlook combined with collaborating with Kurran, seems to shape the tracks quite easily. I think it's not hard to achieve but I think trying to get everything to fit together and not sound like three separate songs in one song is the bit that takes thought. Working with Kurran has definitely brought that genre blend sound to life.
What are some of your favourite lyrics from the EP and the meaning behind them?
'I think you like to watch this room burning holes in my heart' was definitely a satisfying lyric to write. It sort of represents that feeling when you're in a complicated place with someone and you feel like everything they're doing is to hurt you. More specifically at like a party and maybe they're trying to get on someone else in front of you or purposely ignore and avoid you.
I also really like the lyrics 'my face feels so numb, tried to glue my features back on' from 'My Own Way.' It represents that feeling of feeling so numb to emotion, that you try to form some sort of expression on your face that is an example of an emotion you should be feeling.
What can we expect from Amber Jay for the rest of the year?
Another record maybe? I've been working on some new songs and I'm looking forward to growing and just getting better. I'm excited for what I make and what is to come next.
Listen to Amber Jay's 'Never Too Far From A Dark Thought' below
Amber Jay featured on the January episode of the LIMF Academy radio show on Melodic Distraction. Listen back
Interview by Simone Armstrong